Doors, Hinges, Handles, Letterboxes, Glass & Locks
"Our team has a uPVC specialist"
We repair and maintain all types of uPVC (plastic) doors. We fix frames, hinges, and the glass which is often double glazed. We are uPVC locksmiths but more and more we are making general repairs to doors due to our low cost and one of the best service records in Brighton & Hove.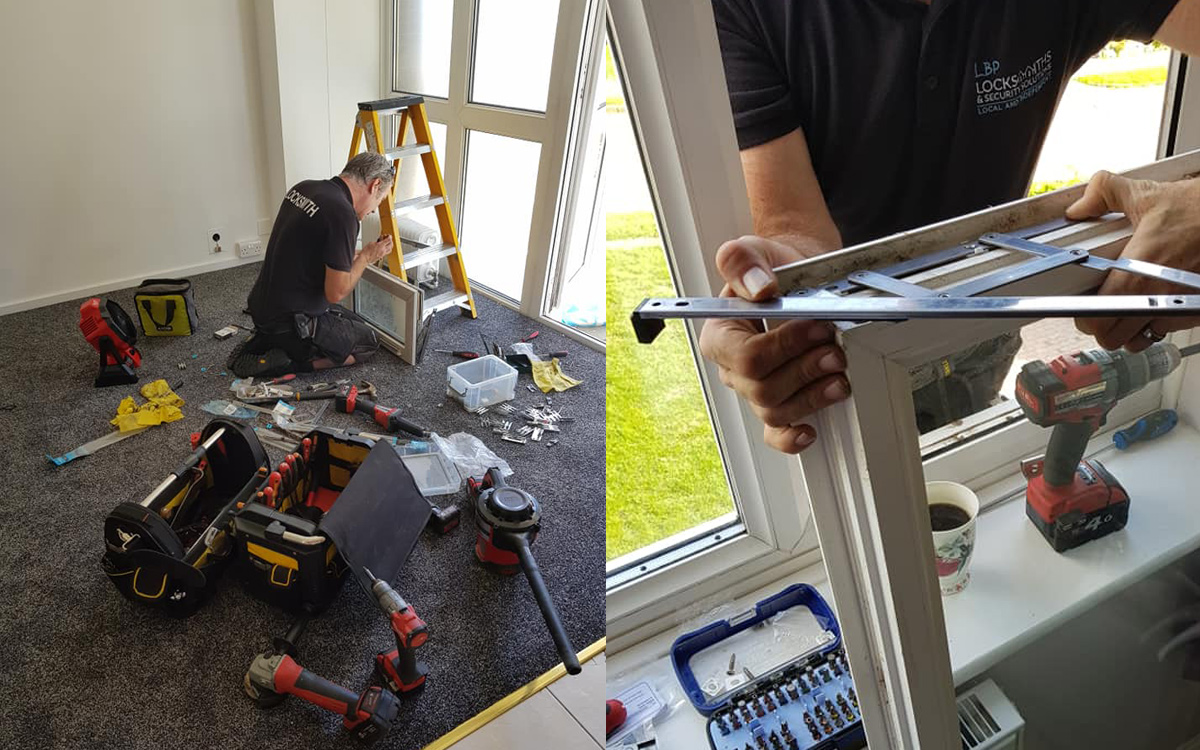 What is your uPVC door problem?
Doors shut but they don't lock
The door is loose and rattles
There is a draught
The door is damaged e.g. cracked, dented, burned and needs replacing
The door is stuck or jammed shut
#uPVC Doors #Repairs #Double Glazing #Brighton #Hove
Our uPVC Services
UPVC Door locks
We are highly experienced uPVC door locksmiths. Whether it's a snapped or jammed key, a lock mechanism failure or a uPVC lock upgrade. We can fix, replace lock parts or replace the whole lock. We can even supply extra cut keys on the spot, ideal for a landlord with multiple tenants. Read more on our uPVC locks page
uPVC Door replacement
We have the skills and experience to remove the old uPVC door and replace it with a new one. It's important the door is fitted correctly, quality hinges and locks are used to preserve the life of the door and its sealing capability. Cheap uPVC doors can warp. If your door meets at the top and bottom of the frame but not in the middle, your door is most likely to be warped and will probably need replacing.
uPVC door realignment
If you think your uPVC door is mis-aligned we can re-align it. UPVC common door problems are: they get loose and rattle over time, it could drag on the floor. There may be a draught or its difficult to open or shut?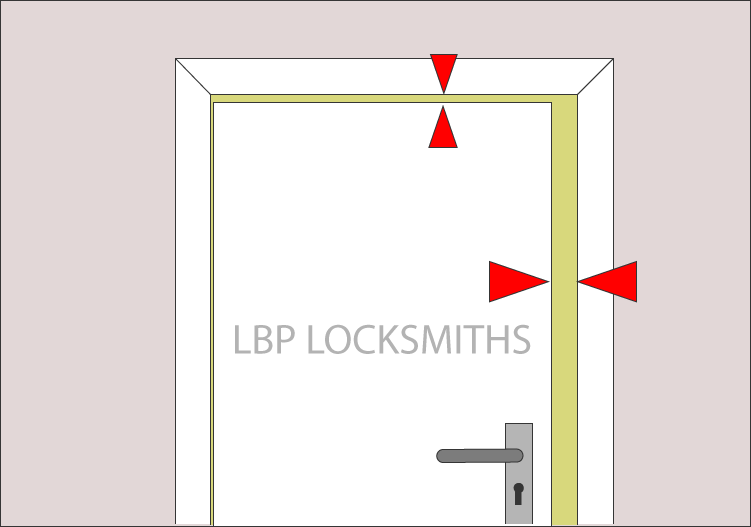 door gap check
Look at the corners, do they look square and do they line up with the frame ? We check the top of the door with a spirit level. Check the gap all the way round between the door edge and the frame to see if its consistent.
We are able to adjust or replace the hinges so the door fits exactly as it should and may save money on heating bills.
uPVC door hinges
There are 3 types of uPVC door hinges.
The butt hinge found on older doors. This may have some lateral adjustment. T-Hinges usually have lateral and vertical adjustment. The most modern is the Flag hinge which allow for the most control 3 ways. Damaged hinges can be replaced.
Door handles
uPVC door handles can be under constant use and subject to wear. They can seize, jam or become loose. We have a range of compatible handles that may save the whole lock from needing to be changed or several trips to the DIY store.
Letterbox repair/replace
Quite often the letterbox is the first thing to go wrong with a uPVC door. It can leave an opening and a draft. We can repair with new springs and internal parts or replace the letter box.
Services we don't supply
We don't repair wooden casement doors, we have repaired these in the past but we feel your better to work with a specialist.
Team
LBP Locksmiths Brighton and sister business ASL Locksmiths Sussex is a growing team based on the success, skill and customer recommendations since 2013. With 2 dedicated locksmiths and a specialist uPVC builder we are hard to beat on quality price and service level.
Tools & techniques
We use a range of a number of specialised tools
Glazing Paddle – Assists toe and heeling (lifting) of windows and doors.
Nylon Hammer with a non marking head for fitting beading on UPVC frames.
Window Beading removal tool.
Double glazing glass measuring gauge tool.
I am locked outside or inside a uPVC door?
We recommend to call a locksmith
How do i fix a jammed UPVC Door that locks/unlocks?
Try locking / unlocking the door from the other side. Spray silicon lubrication or add a drop of oil to the door hinges incase they have seized.
uPVC door does not open when unlocked, how can it be fixed?
The door may need re-alignment or the latch is broken and the gearbox may need to be replaced
The uPVC door lock and/or handle has broken, do i need a new door?
No. The lock and/or the handle can be replaced.
How much time does it take to fix uPVC door lock that won't open?
A rough guide is 30 mins. More time is required for complications e.g. multipoint lock hooks not moving.
There is a draught coming from the door what is the problem ?
Providing the uPVC door shuts. Draughts can come from a misaligned door that has a gap or a damaged seal. Depending on the hinge type, adjustments can be made. You can use a spirit level on top to check the door. If the door is warped or curved you will probably need to replace it. Seals can be replaced fairly easily. Also check the letterbox closes. The spring may have worn. This can be repaired or replaced.
How can I extend the life of my uPVC doors?
Spray silicone onto hinges on a regular basis. Avoid slamming doors. Use the handles to close the doors so the lock mechanism does not get worn down.
1 door panel is damaged; cracked, dented, burned etc can you fix the individual panel ?
No. However there are specialist uPVC doctors or magicians who supply this service.
LBP UPVC REPAIRS
provide fast, cost effective uPVC door repairs and complete replacements in Brighton & Hove. Call today: