Approved by Trading Standards for 5 Years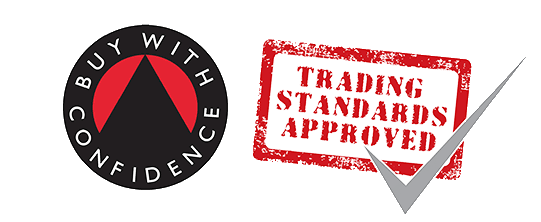 LBP Locksmiths Brighton was approved in December 2014 and held membership until in July 2019. We decided not to continue the membership due to the fees. Trading Standards Brighton and Hove have a strict process of vetting and monitoring in order to be an approved trader with them.
Trading Standards Buy With Confidence website
CheckATrade 6 Year Achievement

LBP Locksmiths Brighton joined CheckATrade in February 2013. We discontinued membership in July 2019 due to the annual cost of £1200. In April 2016 (3 years) LBP Locksmiths Brighton had received 311 positive feedback reports with an overall score of 9.9 out of 10. During our CheckATrade membership, we were checked, vetted and monitored. To become a member of CheckATrade you must be qualified, insured and have references from previous customers.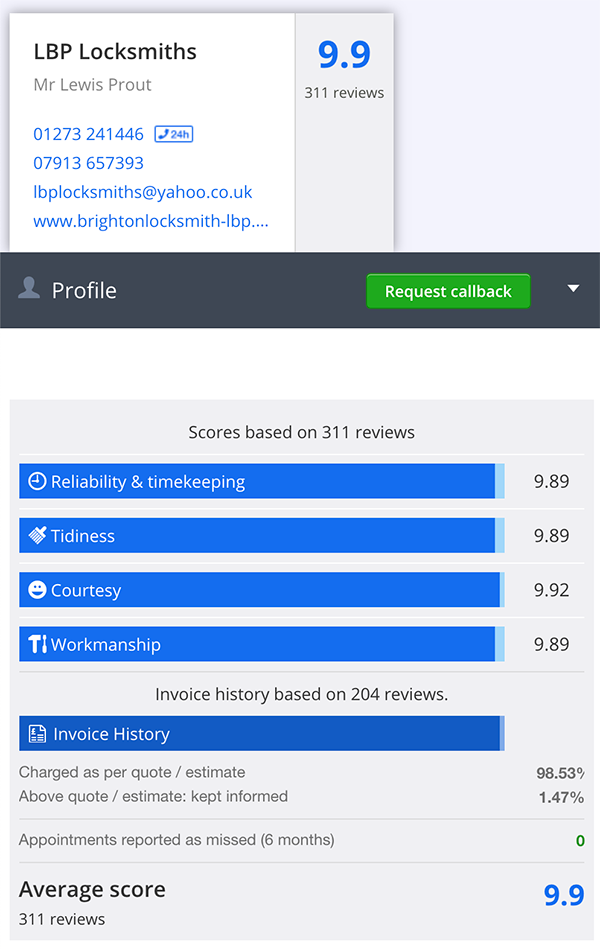 Link to Archived Version of our CheckATrade page
Open wooden French doors where bolts had seized up…
"Lewis did a tremendous job, would highly recommend. It was a really difficult job and he worked very carefully to ensure the wooden frames wouldn't get damaged. He also gave good advice on the best types of bolts to use for our doors. Very professional, well-mannered and perseverant."
– Customer in Brighton. 10 out of 10.
Installed interior door lock after gaining entry to locked door with lost keys…
"Efficient, friendly and fast service. Didn't get flustered even though I was stressed out. Would definitely recommend him."
– Customer in Brighton. 10 out of 10.
Emergency roadside replacement of van keys…
"These guys seem to be the only company in the Brighton area capable of fitting new keys for my model of van, and they were recommended by the AA. They came at very short notice, were clearly very knowledgeable and professional. The friendly tradesman cut me 2 keys on the spot (keys with immobiliser chip!) and they also seemed to be competitively priced, highly recommended."
– Customer in Brighton. 10 out of 10.
Repaired UPVC mechanism…
"I would recommend this company. Sunday call out, contacted as CheckAtrade recommended. Arrived within an hour. Very efficient, polite and problem solved."
– Customer in Eastbourne. 10 out of 10.
Installed 4 x British standard keyed a-like locks…
"Lewis went out of his way to get the job done. Quickly and to our requirements. Very conscientious and polite."
– Customer in Brighton. 10 out of 10.
Picked lock…
"Very efficient and a reasonable price, definitely use again and recommend."
– Customer in Hove. 10 out of 10.
Installed new insurance approved deadlock…
"I rang to enquire about the possibility of fitting a new lock in the afternoon and Lewis said he could come straight away. He came within 15 minutes and completed the job professionally, keeping me informed about how it was going and costs involved along the way. Also gave advice regarding the problem of the warping/sticking of the door and whom I might contact for further help with fixing this. I was thoroughly impressed with the work carried out, the speed of service and the courteous and professional manner in which it was carried out. Highly recommend Lewis to others needing this service."
– Customer in Hove. 10 out of 10.
We hope you can see from our feedback that we are excellent in all areas of the service we provide for our customers.
LBP Locksmiths Brighton: Far from your average locksmiths