Bailiff & Landlord Repossession Locksmith
LBP locksmiths assist Landlords, Solicitors, Bailiff's & Enforcement Agents with property repossession in Brighton. We gain entry and secure rental properties, houses & commercial premises for retail and business.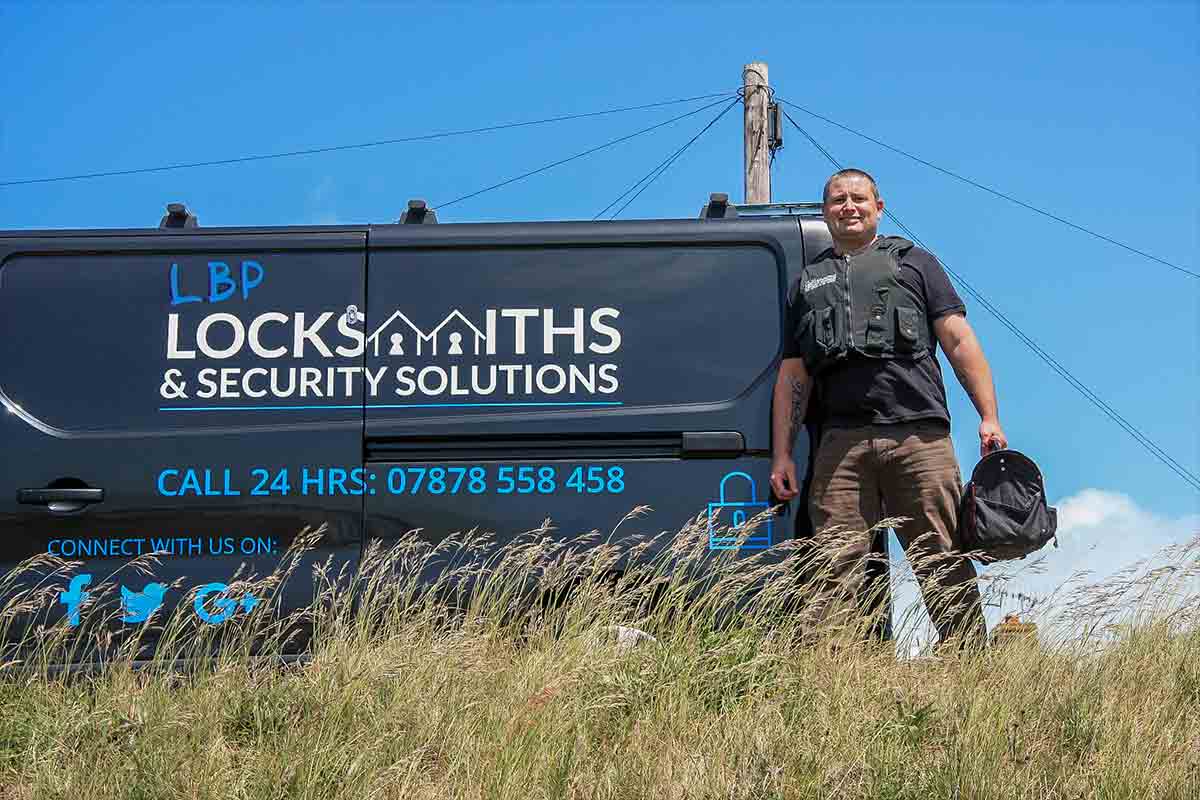 Eviction entry & lock change
We deal with eviction lock changes, once a warrant of possession has been issued. We provide quick and where possible non-destructive door entry under pressure, which is where the right tools and over 10 years of combined experience of day to day locksmith & repossession work really comes into its own. We always carry heavy entry tools as a last resort for job completion. We have (so far) always gained entry, on the first visit. We are proud of our 100% record.
Repossession locksmith work cost
We are unable to supply precise quotes for these jobs as neither the Enforcement Agent, Bailiff nor Locksmith has complete knowledge of what is inside the premises. We can supply an accurate estimate of the cost of the call out and prices of various locks.
#Repossession #Eviction #Locksmith #Brighton #Bailiff #Enforcement
Our service
6 easy steps
Call or email us at anytime
You supply or discuss job details
We provide hourly rates and likely parts estimate
We plan the job providing you have obtained warrant of possession from the court
Both parties agree date and time
Upon job completion we send itemised billing
Planning
LBP always plans a repossession job with a detailed discussion. We always conduct a full risk assessment to assess both the property and any potential occupants. LBP use Google maps and street view to make assessments of what we can expect prior to arrival and agree the timing to make sure the actual operation is fast and fluid and potential problems minimised.
Team
LBP Locksmiths Brighton and sister business ASL Locksmiths Sussex has grown to a small team based on the success, skill and customer recommendations since 2013. Find out more about ASL changing locks on a rented property.
Arrival
We will be in constant contact with the Bailiff on arrival. We take into consideration the sensitive nature of this work to minimise fuss and disturbance. Our team always carries proof of identity and we wear work uniform to identify ourselves as locksmiths.
Tools & techniques
Door and lock type can be identified quickly from the outside, but often additional locks can be hidden on the inside of a door. We carry a large range of non destructive tool sets including highly specialist manual and electric lock picking tools. Bumping keys can be used to jump the pins with certain locks.
Letterboxes can be used in conjunction with specialist tools to reach inside the property to open night latches. Padlocks with springs can be opened with shims.
If doors cannot be opened with the above techniques for example a high spec. Ingersoll SC100 London Line BS3621:2007 High Security Nightlatch or doors that are secured with bolts on the inside we switch to our heavy entry tool set which also come into play if an occupant has barricaded the door from the inside.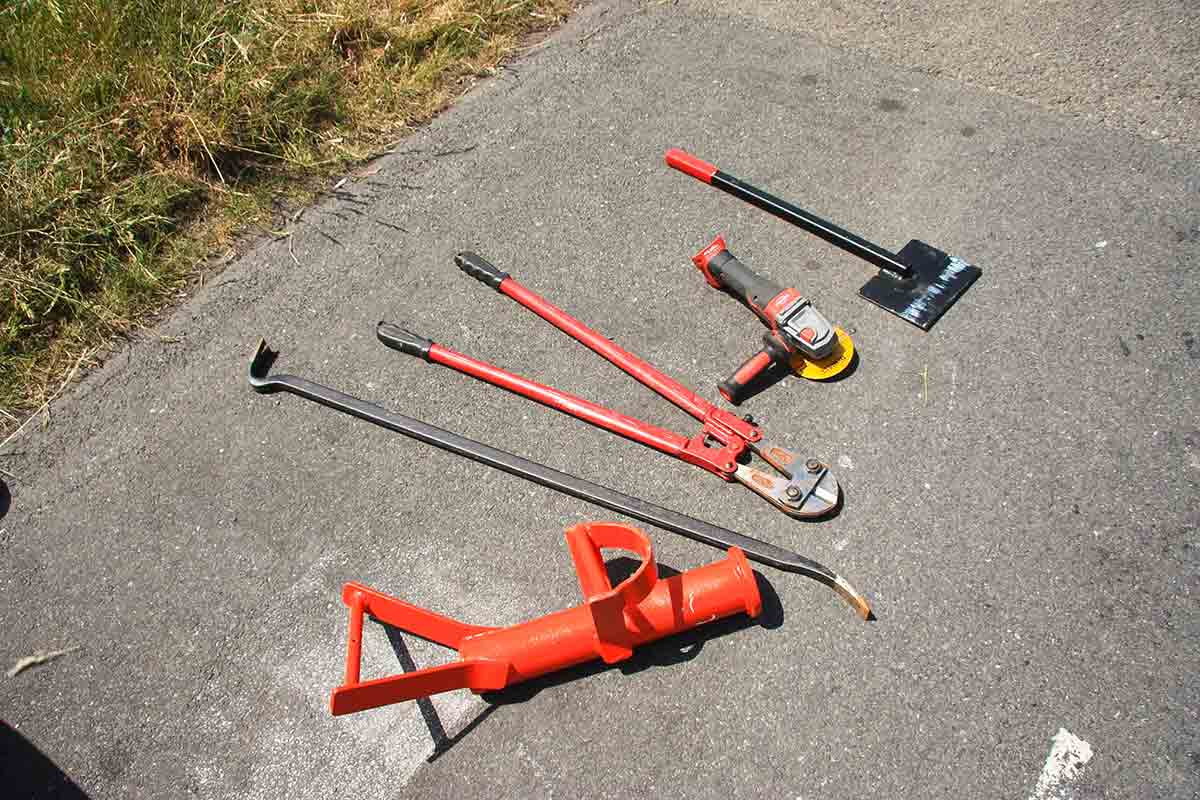 heavy entry tools
Securing the property
Once access is made then for example in the case of eviction we will quickly secure the property. We carry a whole range of new locks with keys, chains and padlocks. We hand keys over to the appointed individual to ensure that only the correct people have access after the repossession
Professional business to business
We do not provide a set quote as every job is unique and there are many variables. However we will happily provide hourly rates & costs of likely parts in advance. Due to the nature of repossessions we do require details of the job before agreeing time and date. We provide itemised billing invoices promptly which will be emailed to a designated email address. Check our locksmith job blog for a selection of work we have carried out over the years and positive high number of genuine reviews we have received from our customers.
FAQ – LBP repossession locksmith jobs
How does COVID 19 effect eviction process ?
What do you do if a property alarm goes off ?
This depends on various factors and also the property owner, we have ear defenders to work whilst an intruder alarm is sounding, we also have the facility to contact the specialist alarm company Urban security Brighton for assistance, if authorised by the property owner, we can access the alarm box which houses the backup battery and siren and disconnect the necessary components which silences the alarm.
How do you deal with electronic locks and passcodes in the case of flats with common entrance ?
Most common way communal front door on electronic strikes can easily be bypassed by slipping the latch. High security maglocks on high crime area council owned tower blocks can be problematic as these are designed to be impenetrable, in an instance like this we would try buzzing in through another flat or call an electrician to short circuit the mains power and release the maglock system.
Is there an out of hours extra charge ?
For jobs where our services are required out of hours, we charge an out of hour call out fee of £100 on top of the hourly rate. The hourly rate is variable depending upon the time of day/night that our services are required.
Can a landlord use a locksmith to repossess property ?
Yes but a landlord must hold a valid warrant of possession.
If a tenant has not paid rent can I change the locks ?
Landlords must follow a procedure. It depends on the tenancy agreement. Landlords must give notice first either section 21 or section 8 and then apply for a warrant of possession.
Can a bailiff use a locksmith ?
Yes a bailiff with valid legal documents can hire a locksmith to repossess a property.
How quickly can a landlord evict a tenant?
If the tenants do not leave by the date specified on the notice and they owe rent. The landlord can apply for an accelerated possession order if the landlord is not claiming any unpaid rent.
When can a property be repossessed?
Persistent late or non -payment of rent, antisocial behaviour and refusal to vacate at the end of the agreed tenancy period may result in the landlord wishing to repossess the property
Can i be forced out of my rental house by a landlord?
It's a crime to harass or try to force tenants out of a property without following correct procedures. A tenants might have the right to claim damages through the court if a landlord does not follow the rules.
If i am tenant and what can i do if have been asked to leave?
Your tenancy will be a 'fixed term' tenancy if it has a definite start and end date. You don't automatically have to leave your home at the end of your fixed term tenancy. You can decide with your landlord if you want to renew the tenancy for another fixed period or stay on a rolling basis.
If your landlord must give you written notice. You might get either section 8 notice where the landlord has to give a reason, for example rent arrears or section 21 where they dont have to give a reason e.g. they want to move back into the property.
If your landlord gives you a notice, they can't force you to leave on the day your fixed term tenancy ends or on the day the notice ends. Your landlord will have to go to court to get a court order.
What if my landlord has fallen behind on payments to the mortgage lender?
If you're facing eviction because your landlord has fallen behind with their mortgage payments, you might have a right to stay in the property. If you don't have a right to stay, you can apply to delay possession of your home by up to two months. This could give you more time to find a new place to live.
Is my tenancy binding and can i be evicted by a landlords lender?
A mortgage lender could take a landlord to court to get possession of the property. This will usually give them permission to evict anyone who lives there. The tenancy may be binding if any of these things apply to you:
the landlord's lender agreed to the tenancy
you were living in the property when your landlord's mortgage was granted
the landlord's lender has recognised your tenancy in some way, for example, by asking you to pay them rent
LBP Repossession Locksmiths
provide fast, reliable entry and assistance to bailiffs & landlords in Brighton & Hove. Call today:
*This content has been checked against official websites however this should NOT be used to make legal decisions. You should check the government and citizens advice websites for the very latest information and consider taking legal advice from a solicitor.